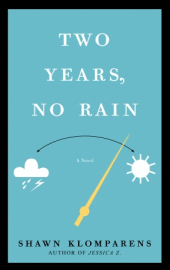 I'm excited to be part of the Book Blog Tour for
Two Years, No Rain
. Please welcome the author Shawn Klomparens. This is his second novel - it's light, touching, funny and a wonderful read!
Review of

Two Years, No Rain

by Shawn Klomparens
Synopsis:
At the start of the novel, Andy Dunn is working as a radio weatherman in sunny Southern California and the weather hasn't changed much - it's close to two years with no rain. But in Andy's life, things are changing fast. Andy's faced with the tail end of a divorce and his wife has just moved out of their house, with much of their furniture. Andy applies for a voice over position with a children's production company a few days before he downsized from his weatherman job. When his new job comes through, Andy finds himself in a different place: good job, getting fit, and finally about to start a romance with the beautiful and married Hillary Hsing, who he's admired and been daily textmates for almost two years.
Soon enough Andy's job with Bing! the Childrens Production group starts to flourish, just as his weight drops. Andy may finally have a chance with love interest Hillary Hsing. With his intervention and diplomatic skills, Andy's helped his niece and his sister come to a truce of sorts. Andy's luck and life is starting to change.
Review:
I thoroughly enjoyed
Two Years, No Rain
. Even during his most difficult moments and in the embarrassing situations, Andy is funny and likable. That the novel has a male protagonist with such a clear sympathetic voice might be unusual - Andy gets into emergencies and situations that I've never read in other novels. This adds to the freshness and fun of the book.
The main characters are carefully, well developed and very likeable. I felt that the depiction of Andy's friendship with his niece Hannah was an unexpected treat in the book. I loved the scenes where Andy and Hannah would chat while logging in Hannah's driving hours and the many times that Andy would smooth things over between Hannah and her mother. It made me think of my Tito Tony in Boston who was always there for me when I left my family and the Philippines for Phillips Exeter Academy at fifteen. This was a time before the internet and mobile phones, so to talk to my mother I faced the 12 hour time difference and painfully expensive phone calls from the one phone in the Academy Building that allowed outgoing international calls. I wrote many letters, but it would take over a month for a response. So when I had immediate pressing concerns, it was a relief to have my Tito Tony who like Andy, never acted as a parent, but was someone smart and sensitive who would talk me through difficult times.
I thoroughly enjoyed
Two Years, No Rain
and highly recommend it as a heartwarming, hilarous, and atypical read!
Publisher: Delta (June 23, 2009), 384 pages.
Courtesy of TLC Book Tours and the author.
Thank you so much to Lisa and TLC Book Tours, and to Shawn Klomparens for having Starting Fresh on your Book Blog Tour!
About the Author, courtesy of his website:
Shawn Klomparens
was born squarely in the palm of Michigan in the winter of 1970, and grew up between there and Central Ohio. After studying English and Geological Sciences in the beautiful foothills of Appalachia at Ohio University, he moved to Jackson, Wyoming for what he thought would be a one year break from graduate work, and has been there ever since. Learn more about the author on his
Shawn Klomparens website
at http://www.shawnklomparens.com/
Participating blogs
Tuesday, July 7th: Book, Line, and Sinker
Monday, July 13th: Peeking Between the Pages
Wednesday, July 15th: Anniegirl1138
Friday, July 17th: Bermuda Onion
Tuesday, July 21st: Suko's Notebook
Wednesday, July 22nd: Stephanie's Confessions of a Book-a-holic
Monday, July 27th: Life In The Thumb
Wednesday, July 29th: Cindy's Love of Books
Thursday, July 30th: Raging Bibliomania
Monday, August 3rd: Chic Book Chick
Tuesday, August 4th: Planet Books
Monday, August 10th: Bookworm with a View
Wednesday, August 12th: Starting Fresh
Thursday, August 13th: Pop Culture Junkie
Tuesday, August 18th: Books on the Brain – Summer Reading Series
Thursday, August 20th: Book-a-Rama